St. Joseph's Abbey Gift Shop
Located right at the entrance to the monastery on route 31 North, the Abbey Gift Shop is your first point of contact with the Trappist monks of St. Joseph's Abbey.  In addition to the full range of Trappist Preserves – every flavour we make – we also carry a variety of fine quality food products from Trappist communities across the country – including handmade chocolates and caramels, fruitcake and fudge, biscotti and honey.
We also carry a large selection of Catholic books with the accent on monastic theology and spirituality that provides a particular insight into the centuries-long tradition of monastic life and contemplative spirituality.
We are also pleased to offer a wide range of religious art and devotional objects.
We are pleased to carry a selection of soaps, hand creams and balms made by our Cistercian nuns in Norway. The community was founded in 1999, not far from the ruins of a medieval Cistercian monastery, on the island of Tautra in central Norway, by nuns from Our Lady of the Mississippi Abbey, located in Iowa, not far from Dubuque. Today the community in Norway numbers 15 nuns and they are able to support themselves by the production and sale of these fine, hand-made soaps and creams. They sisters make all of them by hand and use only the finest raw ingredients, many of which are organic. Queen Sonia of Norway, who laid the foundation stone for the present monastery, has taken a keen interest in the community and allowed the sisters to call their one of their soaps "The Queen's Soap".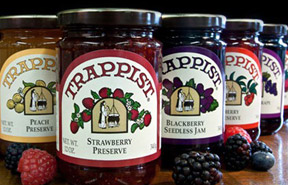 VISIT
THE ABBEY GIFT SHOP and BOOKSTORE
Hours: Thurs-Sat 10:00 AM–4:30 PM
The gift shop will be closed Christmas Day, December 25.
It will also be closed for the feast of Mary, Mother of God on Sat. Jan.1, 2022 as well as the rest of the following week for a computer system update and inventory.
The gift shop will re-open Thursday, January 13, 2022.
We wish all our customers a very blessed Christmas and a happy New Year.
Tel: 508.885.8720
SAINT JOSEPH'S ABBEY
167 North Spencer Road
Spencer, MA 01562
Tel: 508.885.8700
monks@spencerabbey.org
ORDER ONLINE
TRAPPIST PRESERVES
For mail order and personal gifts please contact our representatives:
Monastery Greetings
Tel: 800.472.0425
www.MonasteryGreetings.com