The monks of Saint Joseph's Abbey accept donations for Masses and Scrolls of Enrollment.
The usual offering is ten dollars (or more if so desired) for a Mass to be offered at our monastery. Offerings of less than ten dollars are sent to missionary priests and to other houses of our Order as a way of supporting them. Gregorian Masses (a series of thirty Masses) are sent to missionary priests and monastic houses.
We also offer scrolls of enrollment. The scroll is a handsome document designed by one of the monks several decades ago. The name of the person to be enrolled is written out by one of our monks in calligraphic script. And the enrollment is signed by the Abbot. Such a scroll affiliates a person in perpetuity with all Masses and prayers offered at Saint Joseph's Abbey. The typical offering for a scroll is forty-five dollars.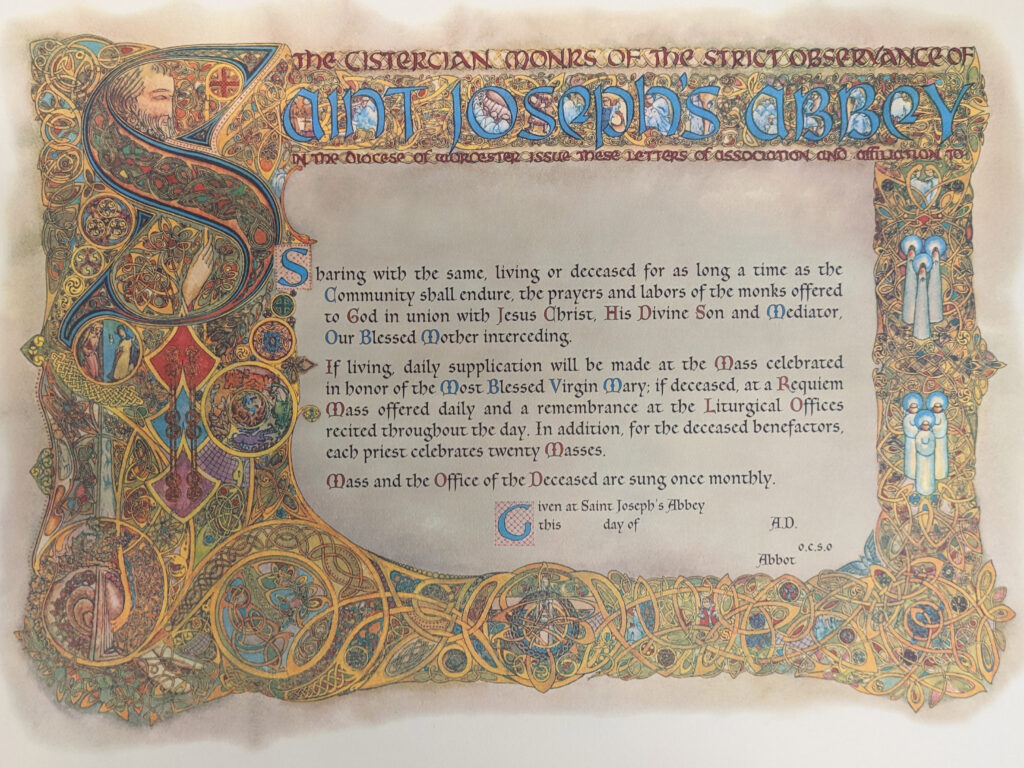 The person who makes an offering for a Mass or scroll will receive an acknowledgment of receipt. We accept checks but not credit cards for Masses and scrolls. Checks should be made out to the Mass Department or Scroll Department of St. Joseph's Abbey.
Please contact us either by writing, email or by leaving a voice mail message as follows:
Mass Department (for both Masses and scrolls)
Saint Joseph's Abbey
167 North Spencer Road
Spencer, Massachusetts 01562-1233
Phone: 508-885-8700, voice mail extension 581